Avada is the ultimate multifunctional premium WordPress theme. With built-in WooCommerce support, over a hundred free templates, advanced SEO functionality, and performance analysis, it is no surprise that more than seven hundred thousand users trust this theme!
| | |
| --- | --- |
| Overall rating | 4.7 |
| Ease of use | 4.5 |
| Reliability | 5 |
| SEO performance | 4.5 |
| Loading times | 4.2 |
| Learning curve | 4.3 |
| Price | 5 |
Avada Theme Features
Avada is jam-packed with features that were once only achievable with endless plugin installation. These features include a live visual builder, layout builder, header and footer builder, form builder, performance wizard, and easy-to-implement drag-and-drop design elements.
Avada's particularly noteworthy features
| | |
| --- | --- |
| Lottie Animations | Lottie animations are nice-looking animations created using SVG files. This Avada feature lets you add Lottie animations to your website easily and browser compatible. |
| Countdowns | Countdowns are a great way to get more sales for your products and services faster. Avada lets you create such countdowns very easily. |
| Custom Archive Layouts | One of the biggest disadvantages of WordPress is the design of the archive pages. Hardly any possibilities to insert additional content. Hardly any design options. With Avada's Page Builder, you can build your archive pages the way you want. |
| Pricing Tables | With Avada's pricing tables, you show your users clearly and easily what your products and services cost. |
| Avada Forms | Avada Form Builder lets you build forms the way you need them. And completely without an additional, expensive plugin. |
| WooCommerce Builder | The Avada theme's built-in WooCommerce builder helps you quickly build your own online store and brings numerous, useful features that can increase your sales. |
=== Click Here to Get Avada for $60.00 ===
The Live Visual Builder
The live visual builder is not a feature unique to Avada, but a visual building tool for design changes is always a plus! Additionally, Avada uses Fusion Builder drag and drop builder, which is exceptionally lightweight compared to other available options.
Layout Builder
The layout builder is another time-saving tool that lets you build layouts for specific areas of your site. After creating your custom layout for each section, it is simple to set up conditional display parameters, and there is no coding required.
There are also twenty layout elements that you can use to build a templated layout for the footer, archives, posts and pages of your site including
Related posts
Woo Commerce products
Woo Commerce cart
Related products
Pagination
Woo reviews
Post card archives.
Most of the layout builder pre-built elements in Avada are related to WooCommerce, which will be less helpful if you do not intend on building a WooCommerce site.
I particularly like that this theme incorporates layout building and header building as it facilitates setting up unique headers for each page of my site without too much trouble.
=== Click Here to Get Avada for $60.00 ===
Header and Footer Builder
The header and footer builders are not unique to Avada, but it is a "must-have" for me in any WordPress theme. I like that it allows me to create nontraditional headers that stand out, and unlike other header builders, it does not limit me to a specific layout structure.
There are also sixteen pre-existing demo header layouts to choose from, which cover most – if not all – header types you can imagine.
Form Builder
The form builder (like the site builder in Avada) is a simple drag and drop interface, which is ideal for tweaking the form layout before committing to a design. What I like most about this feature, though, is that you do not have to depend on external contact form plugins
What is wrong with external plugins? They are rife with incompatibility issues, and this is not just a one-off worry during installation! Each time WordPress updates or an alternate plugin updates, you risk triggering a fatal error.
Performance Wizard
The Performance Wizard is a feature from the latest Avada update. This tool makes site optimization fast and easy– something we do not often see in themes (especially ones as versatile as this.)
The Performance Wizard allows you to make suggested adjustments for optimal site load time. You can make the necessary adjustments from the single performance wizard interface, which is so much simpler than having to weed through settings on a theme dashboard trying to find individual settings for various elements.
Avada Theme Elements
Unlike themes that rely on masses of plugins (which undoubtedly cause conflicts,) Avada incorporates ninety-one design elements into their page builder. These elements mean less reliance on external plugins, and they enable a much faster website load time.
=== Click Here to Get Avada for $60.00 ===
The wealth of theme elements Avada offers makes this a great replacement theme for WordPress sites using more than the average number of plugins (it also makes these sites much more secure!)
If your website is as simple as they come, however, Avada is simply going to be too much engine for your car. You would be best sticking with one of the less feature-intensive themes out there.
Compatibility with Plugins
Let's see how compatible Avada is with big plugins and page builders. Nothing would be more disappointing than to find out after installation that you can't use your favorite plugins.
Elementor
Even though many websites claim otherwise, Avada is compatible with Elementor Page Builder.
This means that you don't have to give up your favorite page builder when using Avada as a theme.
However, I would recommend that you use the built-in Avada builder in any case because otherwise, you will slow down your website unnecessarily. Elementor as a page builder pumps your site so full of code that it automatically slows it down.
There are a lot of articles on the Internet that will tell you that Elementor is not necessarily the best choice if you want a fast website.
Mega Menu
Mega menus are extremely popular when it comes to providing large websites with a lot of information for the user.
Probably the most famous plugin for an impressive mega menu is Max Mega Menu.
If you use the Avada theme, building a mega menu is not a problem. Especially if you use Max Mega Menu.
The plugin integrates seamlessly with the Avada theme.
Visual Composer
As far as I know, Avada is not compatible with the Visual Composer plugin. This is not necessary, because Avada comes with its own, very good page builder, which integrates perfectly with the theme.
=== Click Here to Get Avada for $60.00 ===
The functionality of the integrated page builder can easily compete with the Visual Composer plugin.
What I like about Avada
Drag and drop page builder.
Highly customizable.
Over sixty installable templates with one-click installation.
Built-in performance analysis.
Multiple premium plugins included.
What I don't like about Avada
The theme can be excessive for those looking for a more basic site build.
$60 price tag.
It can be a memory drain with all plugins enabled.
The bottom line
With excellent feature availability, endless customizability, premium design quality, and reliable customer support, Avada is everything you might hope for in a WordPress theme. The average 4.77-star rating out of 5 is well-deserved, and the biggest drawback is its $60 price tag ($65.64 after taxes and fees.)
=== Click Here to Get Avada for $60.00 ===
The Avada Performance Review: Is Avada Theme Slow?
Some users of Avada have noted slow performance in the past, but the theme's performance is dependent on customizations that you make and your hosting company/package.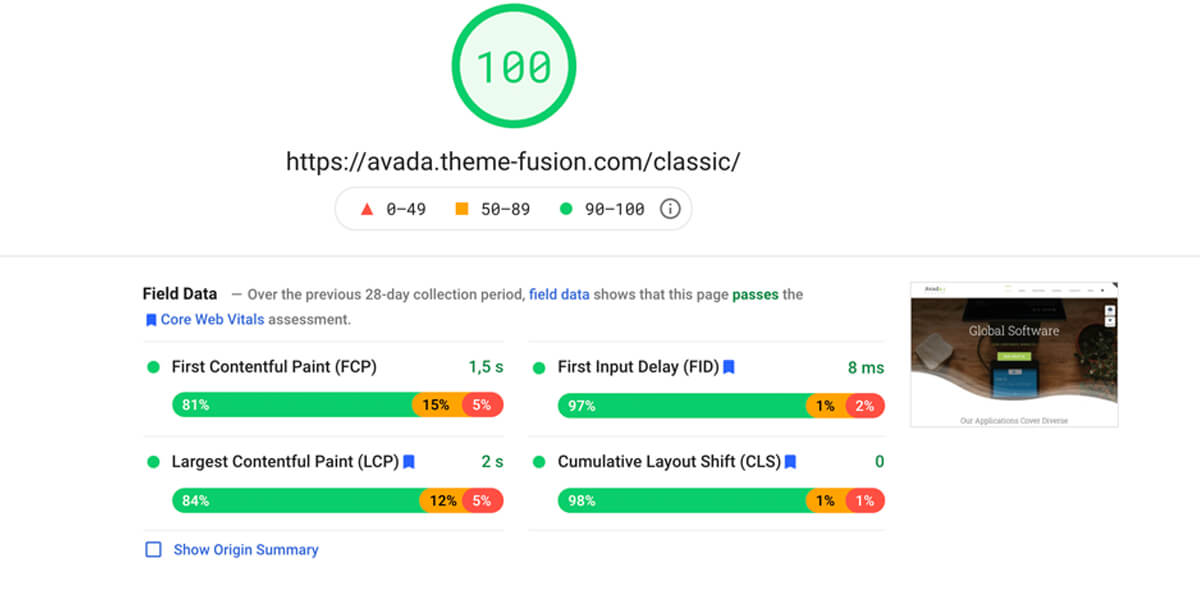 This theme can be hefty and memory-draining when all plugins and features are active, so for your site to run at its best, I recommend a solid (paid) hosting company. It is also necessary to have a host that regularly maintains and upgrades their server applications and scripting.
Just how fast or slow is Avada loading time?
The average loading time for Avada on a desktop system is between .77 seconds and 1.2 seconds. On a mobile device, this load time increases to as high as 3.2 seconds.
If 3.2 seconds is too slow of a load time for you (I admit, it is for me!), the WP Rocket plugin can speed up desktop load time to .31 seconds to .43 seconds and mobile load time to 1.8 seconds.
=== Click Here to Get Avada for $60.00 ===
Avada Theme Updates
Regular updates are an important factor with a WordPress theme. Often security gaps appear at short notice, which must be closed quickly. Otherwise, your website would be extremely vulnerable.
The ThemeFusion team offers very frequent updates to the theme, which not only close security gaps but also bring new features.
As long as you stay on the ball yourself and install the offered updates, your website is on the safe side.
How good is the Avada theme support?
The best theme won't do you any good if you don't have someone to talk to when the going gets tough.
That's why I always make it a point that the support of a WordPress product answers quickly and helpfully. And above all, is easy to reach.
In my test, I got a helpful and satisfying answer from Avada Support within 2 hours. Also, further inquiries were no problem at all.
If I were a WordPress beginner without much prior knowledge, Avada Support would most likely be able to help me quickly. I am happy to recommend the support.
Avada Theme Price: How Much Does The Avada Theme Cost?
Avada is available through ThemeForest and costs $60 (USD). Add in the $2 handling fee and taxes, and you wind up paying closeto $66
Most quality premium themes through ThemeForest cost $59 before the handling fee and taxes, and offer fewer features, less versatility, and are often much more complex to install.
=== Click Here to Get Avada for $60.00 ===
All in all, Avada is a great deal for the price – especially when you consider that it has been the top-selling WordPress theme for eight years!
Avada Theme Demos
One of the things that makes Avada such a popular theme is that it incorporates templates and features for businesses in a wide range of niches. Look at the following five demos – you would not imagine that they were all designed from the same theme!
Where to buy the Avada Theme?
You can buy the Avada theme directly from the manufacturer ThemeFusion, or from Themeforest.
I would recommend you to buy the theme directly from Themeforest because this way you will be sure to enjoy the warranty and updates.
Recap: Is Avada a good theme?
Avada is costly, but when you look at what you get for that price, you are getting far more bang for your buck than you do with any other theme on the market.
Avada offers flexibility, thorough documentation, regular updates, premium plugins, quality demo content, built-in performance reporting, custom layouts, and a lightweight drag and a drop editor (among other things.)
Avada is a package deal you cannot expect to find from any other theme producer – at least not for $60!